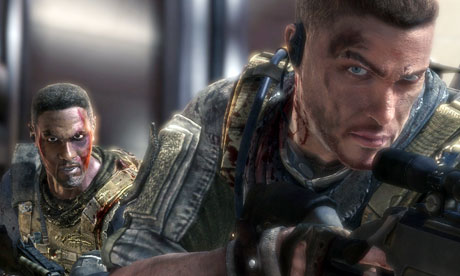 You dispose of your foes with a nice selection of weapons, ranging from the typical M4 assault rifle to the high calibre Desert Eagle but none of these weapons pack a punch. It seems like Yager have used some of the guns from each Modern Warfare games ranging from the Barrett to the UMP45. Which is out of place as Yager have tried to do something that other shooters have not done – tell a gritty story about the struggles of war and the cost of insubordination.
The initial vistas of golden sand and diamond blue sea don't look as good as they potentially could have, the visuals look dated, characters aren't as detailed as they should be and at one point a whole cutscene played out before an environment and character model had properly rendered. That said, the lack of a notable orchestral score is surprisingly effective, instead being replaced by recognisable songs that play via the homemade PA system that the 'Radioman' has installed throughout the wrecked city.
Spec Ops: The Line presents you with moral choices that [i]you[/i] have to make and in each situation there is no 'right' choice. But you still have to make it and while Walker manages to do a good job of keeping his regret and distain for the consequences of his decision internal Lugo and Adams are much more vocal. Think back to all the supposedly tough decisions you have had to make in games before. None of them seem to have too serious consequences well this game does. At on
e point, I actually got a lump in my throat and said 'f*** me' at what happened and Yager need to be commended for this.
Spec Ops: The Line is not a perfect shooter, but it does offer up something new: A gritty, moral provoking story with hard hitting consequences and if Yager had another 3 months this would be one of the best single player shooters of the past couple of years. You will definitely enjoy your 8 hour play through into the Heart of Darkness and you will make time to see the other 3 endings.
8/10
+ A well told, hard hitting story
+ The consequences of your actions have emotional impact
+ Walker's development is impressive
- Could have done with a couple month's worth of polish to be something truly special
- Combat and cover mechanics are mediocre at best